We believe strongly that every child deserves to be healthy and happy, and we want to do all we can to make that happen. It's why we're co-sponsoring a special event on Aug. 20, 2021, benefiting some special little angels. One of those angels, in particular, holds a very special place in our hearts. 
Charlie's Angels Charity is teaming up with the Foundation for Angelman Syndrome Therapeutics (FAST) for a golf tournament and silent auction on Aug. 20 to raise money to help find a cure for Angelman Syndrome. These organizations are on a quest to find a cure for Angelman Syndrome. Together, we can help reach that goal!

We're guessing you haven't even heard of Angelman Syndrome. Most people haven't. The genetic disorder is extremely rare. Only an estimated 500,000 of the 7.8 billion people in the world have it. But for those whose children are born with it, the disorder presents challenges other children wouldn't have to face. 
One of those children is well known to the Center for Pediatric Dental Health family. This little angel is the namesake for the Charlie's Angels Charity. Her name is Charlie.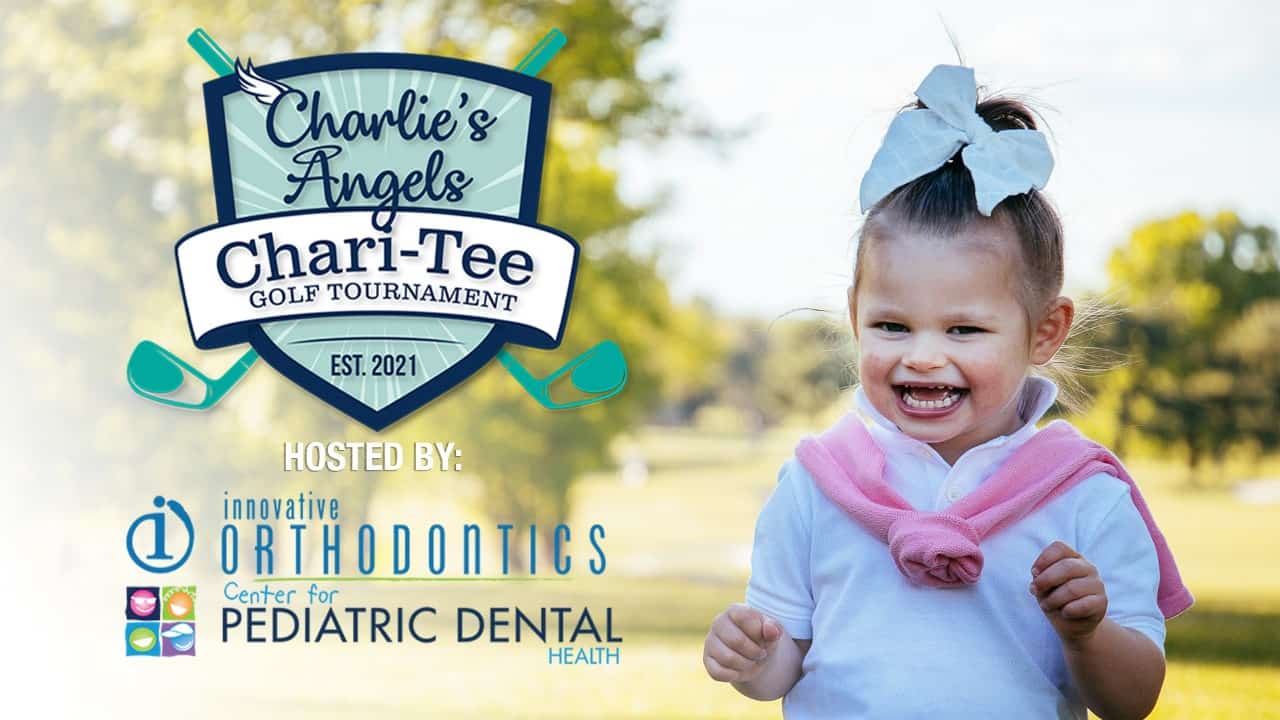 An Angel Named Charlie
Charlie is a beautiful, 3-year-old girl with blonde hair, bright eyes, and a smile that could light up a room. When you're around her, you'll find that she loves to laugh and hear others laugh. She'll often laugh in response.
The truth is, her high energy and frequent bursts of laughter are just some of the symptoms of Angelman Syndrome. The other symptoms are more challenging — trouble with motor skills, speaking, and swallowing. 
Charlie's parents noticed she was still having trouble walking and talking even though she was nearly two years old. They weren't sure what was happening, so they took her to a doctor. In June 2020, they found out why Charlie was struggling so much — Charlie had Angelman Syndrome.
What Is Angelman Syndrome?
Angelman Syndrome is a rare genetic disorder in which a person's 15th chromosome pair is damaged or muted. It's there, but it doesn't respond properly. The disorder usually doesn't affect their ability to understand things. It just makes it more difficult to DO things.
There are four genotypes, or versions, of Angelman Syndrome. Charlie has the type that's called uniparental disomy (UPD). Of those 500,000 people with this rare disorder, only 3-7% are UPD cases. So Charlie's condition is even rarer than first thought. 
For children like Charlie, the disorder may be hard to spot at first. The first sign usually is that the infant has trouble eating and swallowing. By the time the child is 6-12 months, they should be crawling and babbling, then walking and talking. For children with Angelman Syndrome, this doesn't happen. 
Charlie's Angels Charity is working with FAST to help fund research for a cure. The scientists are hopeful a cure can be found. The money is also used to help pay for the intensive therapy patients need to make their speech and motor skills better. Patients like Charlie need that therapy most of their lives. People with Angelman Syndrome can live long lives despite the disorder.
Raising Money for Charlie's Angels
The Center for Pediatric Dental Health and Innovative Orthodontics are teaming up as host sponsors for the Charlie's Angels Chari-Tee Golf Tournament. The event will take place on August 20, 2021, at Ramblewood Country Club in Mount Laurel, NJ, and will include a silent auction. Proceeds from the event will benefit Charlie's Angels and FAST. 
Not a golfer? Not a problem! You can join us for lunch from 2-4 p.m. We'll be handing out goodie bags and awards, then presenting the Charlie's Angels donation to FAST. You can donate as well! Please join us by registering online. You can also find out more information about Charlie's Angels and our beautiful angel, Charlie herself. 
We believe in helping children in any way we can, and this is a way that we can help these special children. It is our honor to co-sponsor this event and give Charlie and her family the care and support they need. Please help us help this amazing little girl and lend your support (and golf skills!) on August 20th. We look forward to seeing you there!